AQUABOT ULTRAMAX JUNIOR POOL CLEANER (W-REMOTE) - for cleaning swimming pools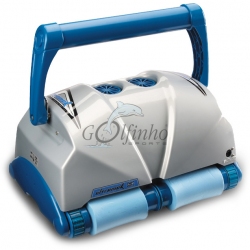 Made in: EU
Model: E5033
Category: Equipment for swimming pools
Technicals Features:
The Ultramax Junior commercial pool cleaner incorporates all functions and features of the Ultramax. In a more compact design, the Junior unit is suited to pools found in larger hotels and public swimming facilities.
This super—efficient compact version of the Ultramax also comes equipped with the Aqua Smart System. This amazing patented system enables this automatic pool cleaner to completely cover the pool and pick up all debris and particles from the pool bottom in one cycle.
The Ultramax Junior comes standard with a wireless remote control system. The remote control is extremely useful to direct the cleaner to areas of the pool that may require special cleaning attention.
All our units come with an advanced power supply, thus making them the most versatile Commercial — Public pool cleaners on the market. The totally redesigned LCD display allows a total control of cleaning options.
Fully customizable, it comprises six programs to choose from according to pool's needs.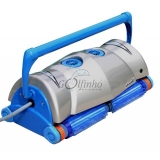 AQUABOT ULTRAMAX VACUUM (W-REMOTE) - for cleaning swimming pools
Made in: EU
Model: E5034
Category: Equipment for swimming pools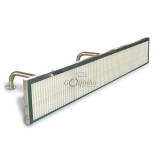 TURNING PANEL for swimming - LANE WIDTH 2M (2 SUPPORTS)
Made in: EU
Model: E530
Category: Equipment for swimming and water polo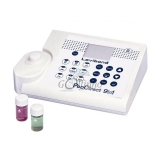 POOL DIRECT PHOTOMETER 9 IN 1 (PCD9)
Made in: EU
Model: PCD9
Category: Pool equipment