AQUABOT MAGNUM VACUUM (W-REMOTE) - for cleaning swimming pools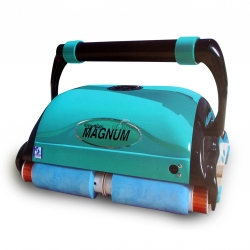 Made in: EU
Model: E5032
Category: Equipment for swimming pools
Technicals Features:
The Magnum commercial pool cleaner offers operators and maintenance personnel of mid—size commercial facilities (pools up to 25 mts).
It is designed for pools in schools, universities, hospitals and hotels. The Magnum does not require installation or special hoses.
The Magnum comes equipped with wireless remote. The Magnum has an infrared system which informs of the presence of obstacles.
The "standby" program is a new and innovative option to place the robot in "STAND—BY" mode, in order to allow any dust settling on the bottom, before the beginning of the cleaning cycle.
The Magnum also includes a stainless steel car.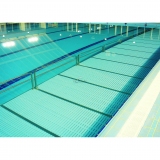 MOVABLE FLOOR TO REDUCE POOL DEPTH
Made in: EU
Model: E5197
Category: Equipment for swimming pools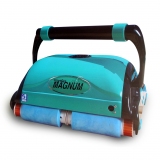 AQUABOT MAGNUM VACUUM (W-REMOTE) - for cleaning swimming pools
Made in: EU
Model: E5032
Category: Equipment for swimming pools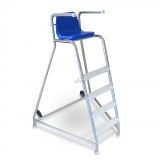 Bath Attendant Chair
Made in: EU
Model: E5206
Category: Equipment for swimming pools