Balance beam. FIG approved.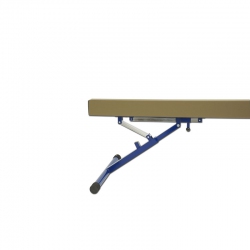 Article: AVSS1010
Length 5 metres. Adjustable height 50 — 120 cm.
Women's balance beam, made of aluminium covered with suede synthetic leather, section 13×16 cm, with rounded sides and walking area of 10 cm. Tubular steel periscopical supports varnished and chromed, adjustable in heights with automatic device for using the beam at different heights. Rubber covered floor pads. In accordance to F.I.G. rules. Made in EU.
Another sports equipment from category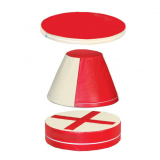 Foam "Mushroom" kit
Article:AVGY1096
Material: PVC, Foam
Color: beige/red
Dimensions:
20 cm / 52 cm / 20 cm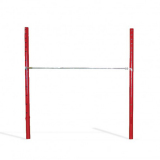 High bar. Without cable. 2 pers
Article:AVGY1090
Material: Metal / wood
Color: beige/red
Dimensions:
Height: 0.95—2.55 m
Distance between uprights 2.40—2.55 m.
1—person bar (3 uprights, 2 rails)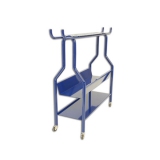 Equipment trolley
Article:AVSS1501
Made in tubular varnished steel with 3 shelves. Complete with 4 rubber wheels. Capacity: 40 clubs, 100 poles, 60 supports, 25 hoops, 25 small ropes. Made in EU.