OMEGA PowerTime II Hand-held timer/printer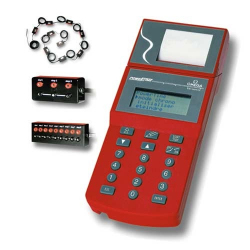 Article:

3462.900

Dimensions: 210 x 95 x 40 mm

Weight: 410 g (no paper, no batteries)

Display: Alphanumeric LCD, 4 lines of 16 char. each

Timebase type: Thermo-compensated quartz oscillator

Timebase resolution: 1/1000 sec to 1 sec (programmable)

Chronograph: 23.59.59.999 repetitive

Keyboard: 10 numeric keys and 8 function keys

Acoustic signal: 1 KHz

Memory capacity: Maximum 2000 competitors

Printer: 24 alphanumeric characters per line

Print speed: 1,5 s per line

Paper: Thermal, width 58 mm, length 8 m

Printing capacity: 2000 lines per roll

Serial link: RS232 (data); RS485 (display)

External power supply: 9-15 VDC

Internal power supply: 4 alkaline batteries 1.5 V, 1500 mAh, type AA/LR6/UM3

Operating time without serial output: > 30 hours and 2000 printed lines at + 20°C

Operating time with running time on PC and scoreboard: > 12 hours and 2000 printed lines at +20°C

External power: Power jack plug Ø3.5 / 1.9 mm for 9 V power adaptor

Operating temperature: - 10 °C to +50°C

Storage temperature: - 30 °C to +60°C

Printer temp. Range: - 10 °C to +50°C

Protection: IP40

Mains power: 115-230 VAC, 50-60 Hz depending on model

Output voltage: 9V DC 1.2A

Manufacturer Swiss Timing (Switzerland)

The PowerTime II is a hand-held, battery powered timing device. The four line display, and 18 key keyboard make it very user friendly. Five plugs allow the device to be connected to various peripherals.

The PowerTime II reflects all the know how and experience of Swiss Timing Ltd, official timekeeper at more than 25 Olympic Games. Benefiting from the latest innovations in micro-electronic, the device more than meets the wishes of every user.

The PowerTime II is absolutely a futuristic device, whilst remaining very easy to use. New timekeeping programs developed to meet divers sporting disciplines may all be loaded from a personal computer.

The PowerTime II provides a practical solution for all disciplines requiring the measurement of time, including the time of day, the duration of a race, lap time, match time or speed.

The PowerTime II is characterised by its ease of use, its high precision, its compact size and low power consumption – making it suitable for every timekeeper, from amateurs to professionals, having already been used at the Olympic Games.
Another sports equipment from category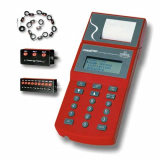 OMEGA PowerTime II Hand-held timer/printer
Article: 3462.900
Dimensions: 210 x 95 x 40 mm
Weight: 410 g (no paper, no batteries)
Display: Alphanumeric LCD, 4 lines of 16 char. each
Timebase type: Thermo—compensated quartz oscillator
Timebase resolution: 1/1000 sec to 1 sec (programmable)
Chronograph: 23.59.59.999 repetitive
Keyboard: 10 numeric keys and 8 function keys
Acoustic signal: 1 KHz
Memory capacity: Maximum 2000 competitors
Printer: 24 alphanumeric characters per line
Print speed: 1,5 s per line
Paper: Thermal, width 58 mm, length 8 m
Printing capacity: 2000 lines per roll
Serial link: RS232 (data); RS485 (display)
External power supply: 9—15 VDC
Internal power supply: 4 alkaline batteries 1.5 V, 1500 mAh, type AA/LR6/UM3
Operating time without serial output: > 30 hours and 2000 printed lines at + 20°C
Operating time with running time on PC and scoreboard: > 12 hours and 2000 printed lines at +20°C
External power: Power jack plug Ø3.5 / 1.9 mm for 9 V power adaptor
Operating temperature: — 10 °C to +50°C
Storage temperature: — 30 °C to +60°C
Printer temp. Range: — 10 °C to +50°C
Protection: IP40
Mains power: 115—230 VAC, 50—60 Hz depending on model
Output voltage: 9V DC 1.2A
Manufacturer Swiss Timing (Switzerland)