Omega OBL2 PRO - backstroke ledge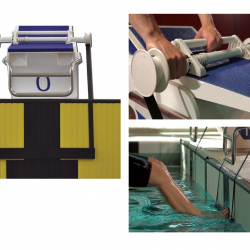 Article:

3454.789

Manufacturer: Swiss Timing (Switzerland)

Model: OBL2 PRO

Category: part of swimming timing and scoring system

Specifications:

This is complement to backstroke swimming starts. Optionally: storage trolley for up to 12 backstroke ledges.

■ Dimensions: 800x150x130 mm

■ Weight: 3,9 kg

■ 5 different adjustment positions

■ Fully compatible with OSB11, OSB12 and OSB14

Certifcates : FINA demand compliance

General Description:

The Backstroke Ledge is improves the start push and trajectory of the swimmer when entering the water. The angle made by the
legs in relation to the water surface during the final push off the wall is greater, and as a result, the swimmer's feet travel the path during the start phase of flight with less contact to the water.
The Backstroke Ledge can be adjusted to every swimmer's size by 5 different positions using a manual rotating system.
Also, the grip mechanism of the Backstroke is covered with an anti-slip surface which avoids slipping and thus, provides more confidence to the swimmers at the entrance in the water.
Thanks to the Backstroke Ledge the swimmers gain in power and force when entering the water and therefore, achieve best performances.
Another sports equipment from category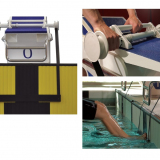 Omega OBL2 PRO - backstroke ledge
Article: 3454.789
Manufacturer: Swiss Timing (Switzerland)
Model: OBL2 PRO
Category: part of swimming timing and scoring system
Specifications:
This is complement to backstroke swimming starts. Optionally: storage trolley for up to 12 backstroke ledges.
■ Dimensions: 800x150x130 mm
■ Weight: 3,9 kg
■ 5 different adjustment positions
■ Fully compatible with OSB11, OSB12 and OSB14
Certifcates: FINA demand compliance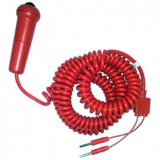 Button judge-timekeeper OIT5
Article: 3498.701
Manufacturer: Swiss Timing (Switzerland)
Model: OIT5
Category: part of refereeing and timing systems
Specifications:
— In the free position is open button;
— Connectors such as "banana"
— waterproof and handy with spiral cable 1,25м
— Protection IP67
Certifcates: FINA demand compliance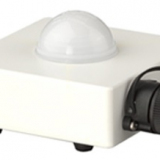 FLASH LED STARTING SIGNAL
Article: 3481.951
Manufacturer: Swiss Timing (Switzerland)
Model: OMEGA FLASH Start
Category: part of swimming timing and scoring system
Specifications:
Visual signal intended for hearing impaired athletes. Powered by the StartTime. Can be connected in chain up to 10 pcs. Optionally: tripod and ball head support.
Sertifcates: FINA Approved